News
Advanced Manufactuing launches hands-on learning experience
BCAC launches hands-on learning experiences
Baldwyn Career Advancement Center students launched rockets last week as a hands-on learning project that they created themselves.
Eight of Mr. Morgan Fisher's Advanced Manufacturing students spent three weeks designing, 3D-modeling, and printing the rockets using the program's new 3D printer. Once complete, the class traveled to Latimer Park to launch their rockets.
"I was looking for ways to incorporate the 3D printer and a new learning experience for my students. While talking one day, Mr. Wilson and I recalled memories of building and launching model rockets as kids. Most of our students had never built or launched a model rocket before. We immediately knew what we could do to make this next lesson fun for our students," Fisher explained.
The lesson entailed students completing the planning, designing, and printing of the model rockets. However, they would need a few additional components to launch and retrieve the rockets.
"Most all rockets use a parachute in the recovery process to slow the rocket's descent. When given this problem, our students used a lot of ingenuity and used garbage bags to create parachutes for the rockets. The only things we did have to purchase were the model rocket engines, a launch base, and an igniter to complete the lesson," Fisher added.
The students were able to launch the model rockets outdoors of the school campus twice. The rockets were estimated to have soared up to 750 feet.
Participating students in this lesson included three students who are third year capstones to Advanced Manufacturing (Payton Wood, Chris Hill, and Spencer Hooper – all of Baldwyn) and five students who are year two Advanced Manufacturing (Blaine Martin, Logan Potts, Riley Hoard – of Baldwyn and Eli Parker and Alayasia Grove – of Booneville).
"This is the exact kind of learning experience we had envisioned for our students when we were planning the BCAC curriculum. We are very proud of our students and staff and the efforts they are making to learn skills for their future success, but most importantly that they are making learning enjoyable for a lifetime," Superintendent Jason McKay noted.
2020 FBLA District Conference Winners
Baldwyn High School Future Business Leaders of America recently participated in the 2020 FBLA District Conference. All members participated in competitions advanced to the 2020 State FBLA Conference in Natchez in April. The following students placed in their respective categories:
Shailon Roberson-1st Place-Personal Finance
Shania Hines-2nd Place-Introduction to Business
Makaylin Billips-3rd Place-Introduction to FBLA
Emma Kate Buse-3rd Place-Introduction to Business Procedures
Elsa Beene-4th Place-Introduction to Business Communication
Dylan Eaton-6th Place-Agribusiness
Sarah Wilson-6th Place-Economics
FBLA sponsor is Susan Winstead.
BCAC 2019-20 Officers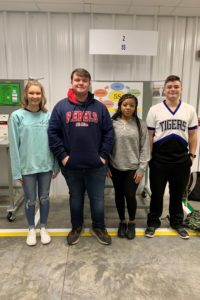 BCAC newly elected Skills USA officers for the 2019-2020 school year.   President-Sarah Wilson, Vice-President- Jackson Allen, Secretary- Aaliyah Shelley, and Treasure-Seth Floyd.
BCAC serves as model school
BCAC serves as model school
The Baldwyn Career Advancement Center continues in its success. It now serves as a model school for other school districts, industries, and legislature wanting to create partnerships for career technical education. On Tuesday, October 22, area representatives and school personnel visited and toured the BCAC to view and discuss its idea planning, partnership, curriculum building, financial planning, and sustaining processes.
Baldwyn Superintendent Jason McKay, Assistant Superintendent Raymond Craven, BCAC Principal Danny Ramsey, and MS Representative Jerry Turner shared with MS Representative Donnie Bell and Itawamba County Superintendent Trae Wiygul the vision, need, and plans implemented to create the BCAC.
BCAC Personal Finance Challenge 2019
BCAC students claim scholarships from business competition
The Baldwyn Career Advancement Center business students have made a name for themselves during their first year of economics competition.
Mrs. Susan Winstead's year two business students competed in the 2018-2019 Mississippi Economics Challenge sponsored by the Mississippi Council of Economic Education. Team members include Shailon Roberson, Sarah Wilson, and Alaysha Billips. The team placed second in the state.
"I am extremely proud of my year two Marketing students. They took the preliminary tests in Economics and Personal Finance for fun, since these were courses they took last year. They placed in the Top 12 in both competitions," Wintead noted.
"They didn't make the top two in Economics, but had fun at the competition. We went back to Jackson a week later for the Personal Finance competition and placed second. They aced their situational presentation. Shailon winning Student of the Year was just icing on the cake."
Each team member received a $250 college scholarship. Roberson was also named Student of the Year for having the highest score on the competition test in the state. Roberson received a $500 college scholarship.
The state event was made up of the top performing 19 teams with 73 students from across the state. The top performing teams were determined from six regions with 1,123 students participating.
"We are extremely proud of these students and their success in this competition. We are also excited to see our career and technical programs of study advancing their future career and college opportunities," Baldwyn Schools Superintendent Jason McKay said.
FBLA 2019 State Competition
Future Business Leaders of American Club members advanced to the 2019 FBLA State Conference this spring in Jackson. The following students placed at the state level to advance to nationals in San Antonio, TX this summer: Shailon Roberson – 2nd place Business Communications, Keeley Wade – 2nd place Job Interview, and Sarah Wilson – 3rd place Personal Finance. Sponsor is Susan Winstead.
FBLA 2019 District Competition
The Future Business Leaders of America Club participated in the 2019 FBLA District Conference earlier this semester at Northeast MS Community College. The following students placed at the district level to advance to state: Sarah Wilson placed 1st in Personal Finance; Alaysha Billips placed 1st in Advertising; Shailon Roberson placed 6th in Business Communications; Keeley Wade placed 1st in Job Interview; Emari Cox placed 6th in Public Speaking; I'yana Ragin placed 4th in Computer Problem Solving; and Dylan Eaton placed 4th in Agri-Business. Susan Winstead is sponsor.
BCAC students excel on TABE
Congratulations to Westin Phillips, Cayliana Newman, Terin Beene, Shailon Roberson, Jahquantee Rogers, John Swinney, Sarah Wilson, Katelyn Capps, and Bradley Shakelford. They all had an excellent score of 12.9 on the TABE.
BCAC furniture class creates first upholstered project
BCAC Furniture class create first upholstered project
Baldwyn Career Advancement Center Furniture Manufacturing students are eager to show their first upholstered project of the school year.
Instructor Lance Wesson led the students in the construction of cushioned stools over the course of a week's time.
"They have surprised me. They come in to class ready to get out in the shop and get to work on their stools. Then before you know it, time is up and they are saying 'I can't believe class is over,'" Wesson noted.
Students used some three days of class time to draft and cut out the frame of the stool and then upholster the cushioned seat top. The students were also able to pick out their fabric design.
The class curriculum will require students to construct an upholstered ottoman next.
"We also have an idea in the works to construct a Bearcat stadium cushion that is cut out and sewn together by our students. This could be a potential fundraiser for our class in the future," Wesson added.
The Furniture Manufacturing class is supported by local industries Southern Motion and HM Richards in which their executives aid in the curriculum development of the class along with providing and guiding with the use of tools, machines, and supplies.
"We are proud of our students for their hard work and eagerness to learn these job skills and career training. We also appreciate the partnership and support our local industries continue to provide us to help advance the education and success of our students and community," Superintendent Jason McKay
Secretary of State inspires BHS students; tours new school facilities
Secretary of State inspires BHS students; tours new school facilities
Baldwyn Schools continues to strive to meet the needs of students today and plan for the future of student education. Secretary of State Delbert Hosemann shares the idea of planning and dreaming for the future.
On Thursday, Hosemann visited with Baldwyn High School students to share the history of Mississippi in a Bicentennial Celebration and to encourage students to dream and plan for the future development of Mississippi.
Hosemann also challenged students to participate in a 500 word essay/art contest detailing their future ideas of Mississippi. The contest is part of the Bicentennial Celebration in which a winning student from each governing district will win $100 cash and $100 for their school along with traveling to Jackson to tour the capitol.
"History is important in knowing where we come from here in Mississippi so we can continue to grow and develop as a state," Hosemann shared with students.
"I challenge you to think about where you want Mississippi to be in 25 or more years. Think about what we need to keep being successful."
Hosemann also toured the new Baldwyn Career Advancement Center classrooms and spoke with curriculum instructors.
"The collaboration and partnerships with industry, businesses, and other school districts is exactly what we need to provide the best opportunties for our students," Hosemann noted.
Other legislative officials on site for the visit included Senator Chad McMahan and Representative Tracy Arnold.
More information on the Bicentennial Celebration high school essay/art contest can be found at http://www.sos.ms.gov/Education-Publications/Pages/Promote-the-Vote.aspx.
International Toyota Auto Body administration tours new BHS facility
International Toyota Auto Body administration tours new BHS facility
Baldwyn Schools welcomed Toyota Auto Body Senior Managing Officer Takashi Karasawa, of Japan, last week to tour the new Baldwyn Career Advancement Center.
APMM administrative staff assisted Superintendent Jason McKay with the tour of the facility. APMM has been instrumental in the planning, safety, set up, and curriculum of the Advanced Manufacturing class housed in the new building. The Baldwyn Career Advancement Center officially opened its doors for classroom instruction in October along with a community Grand Opening ceremony.
Karasawa was able to view the completed stations within the Advanced Manufacturing class including welding, safety, robotics, and more. He also viewed the other classes housed in the facility including Business, Teacher's Academy, and Furniture Manufacturing.
"This is a very impressive facility. I appreciate the school's effort in preparing students for their future careers. We are glad to help," Karasawa noted.
Other APMM administration on site with Karasawa that have assisted with the launch of the Advanced Manufacturing program include APMM Administration General Manager Katsuaki Nasu; APMM Maintenance Manager Tim Yates; APMM Manufacturing General Manager Kim Crumbie; APMM President Kimihiro Yonezawa; APMM Maintenance Team Leader Chad Strickland; and APMM Maintenance Group Leader Jamie Fowlkes.
"We truly appreciate all that Mr. Crumbie, APMM, and Toyota Auto Body of Japan has done to help our school offer students this career training opportunity. We welcome them and their staff anytime for their continued community involvement with our students' education," McKay said.
Baldwyn Schools to host meeting with Booneville & PC School Districts
BALDWYN, BOONEVILLE, & PRENTISS COUNTY SCHOOLS PUBLIC MEETING
May 2, 2017 (BALDWYN, MS) Baldwyn School District will host a public meeting for parents of students of the Baldwyn, Booneville, and Prentiss County communities on Tuesday, May 9 at 6:30 p.m. at the Baldwyn High School auditorium. The meeting will be to learn more about the new Baldwyn Career Advancement Center's vocational programs and classes.
The meeting will also be a collaboration with Booneville School District and Prentiss County School District administration, students, and parents to ask and answer questions about vocational classes that will be available starting in the fall of 2017. Local industries who have partnered with Baldwyn Schools' to provide equipment and curriculum instruction to the vocational programs will also be on site to answer questions and provide information.
Construction for the Baldwyn Career Advancement Center has begun and is expected to be completed in the fall. Baldwyn Schools' administration has invited Booneville and Prentiss County School Districts to allow their students to enroll in vocational classes including Furniture Manufacturing and Manufacturing Technician. These vocational classes will allow for students to prepare for testing NCCER certifications.
More information is available at http://www.baldwynschools.com/schools/baldwyn-career-advancement-center/news/.
Baldwyn Schools approves vo-tech center bid
Bid approved for Baldwyn Schools' vo-tech center
Baldwyn Schools will be setting a ground breaking date very soon for its new vocation education center which will be titled the Baldwyn Career Advancement Center.
Last week the Baldwyn school board approved a construction bid by CIG Construction of Corinth for $1,310,200. The bid included a base bid of $1,249,900, standing seam roof $24,600, brick veneer $30,800, and concrete paving $4,900. Three other bids were submitted. PryorMorrow, supervising architects and engineers of the project, supported the bid approval.
The bid is contracted for 180 days. The next phase of the project will be a meeting this week for administration to meet with construction and design supervisors to discuss specifics of dates and construction details.
"We will be keeping the community updated with frequent press releases and announcements. We want to thank the community again for their support and trust in this project. We know that our vocational education program will be a positive contribution to our students and the community," Superintendent Jason Mckay said.
Baldwyn Schools partners with PC Schools
Baldwyn Schools makes headway with Prentiss County Schools
Baldwyn School District continues with the planning and construction process of its new vocational education facility – the Baldwyn Career Advancement Center.
Last week, Baldwyn Schools' administration met with Prentiss County principals to discuss and plan the scheduling of allowing Prentiss County students to take classes at Baldwyn's new vo-tech facility beginning next school year.
Principals discussed scheduling, transportation, classes offerings, credits, funding, and more.
"We are excited about this partnership with Prentiss County Schools. We want to be able to work together to create educational opportunities for our students that will benefit not only them but also the future of the community," Superintendent Jason McKay said.
The next phase of the curriculum and schedule planning will be visiting with students and parents at each of the respective schools to survey interest in the class offerings. Courses will include business classes, Teacher Academy, Furniture Manufacturing, and Manufacturing Technician classes. These classes will be offered to Baldwyn, Booneville, and Prentiss County high school students. Prentiss County High Schools include Wheeler, Jumpertown, Thrasher, and New Site.
The classes will be able to accommodate at least 15 students per class period with three to four class offerings per day. Students will earn credits toward graduation for these vocational classes. The manufacturing classes will also offer testing for National Career Readiness Certification and National Construction Education Certification. Students who excel on these tests will be able to advance in their certifications and job opportunities in the industry field post high school graduation.
Bids have been accepted for the construction process of the Career Advancement Center. A ground breaking ceremony is expected this spring and will be announced at a later date.
Baldwyns Schools named District of Innovation status
Baldwyn Schools organizes partnership with Booneville Schools
Baldwyn Schools will be "building bridges" with Booneville School District to improve the quality of education for both of their students.
Recently Baldwyn and Booneville Schools were named Districts of Innovation by the Mississippi Department of Education. Both schools will be working together to improve its class offerings and education for their students. This spring Baldwyn and Booneville faculty and administration will meet and make plans and organize their new class offerings in a joint effort.
"We are excited about this partnership and are motivated to doing what we can within our district to offer the best education opportunities for our students and their futures," Baldwyn Superintendent Jason McKay said.
The mission of the District of Innovation status is 1) students who choose to be college bound will have the opportunity to participate in enhanced, rigorous classes, preparing them to fulfill coursework in a timely manner; 2) students who choose to go directly into the workforce will be eligible to work in a high wage industry based on the training and certification received through the Baldwyn Career Advancement Center; and 3) struggling learners will have received resourceful and creative remediation of deficit skills starting in middle through cooperative learning experiences that develop interpersonal skills along with academics.
The goals of the school districts will be 1) to provide career-readiness education and training that prepares a student to be a contributing member of the workforce and begin his or her career with a unique and valuable skillset that is extremely marketable to local industries; 2) to expand academic course offerings through online courses not available on the campus of Baldwyn High School and ensure students are college ready; and 3) to structure the school day and schedule to best meet the learning needs of students at the middle school level.
The mission and goals will include the launch of the new vocational education facility and classes at Baldwyn Schools and the bridging of Baldwyn and Booneville Schools Advanced Placement classes. Students will be able to take online AP classes, if there school does not offer the AP class they are desiring to enroll in.
The District of Innovation planning process will also include a community wide meeting, informative meeting for teachers, promotion of the Baldwyn Career Advancement Center and District of Innovation status, construction of facilities, staffing of BCAC, certification requirements for students to earn NCCR card, and industries to provide specific guidance on soft skills needed to be developed along with curriculum guidance and support as needed.
Bus and parking relocations
Baldwyn Schools prepares for parking, bus relocations
Baldwyn Schools will begin some of the physical construction process of the new Vo-tech facility following spring break March 13-17.
Starting Monday, March 20 all faculty, students, and visitors will not be allowed to park in the auditorium parking lot (center parking lot near the cafeteria of the BMS and BHS campuses).
"We will be temporarily relocating our bus parking lot from the north end of the high school to the auditorium parking lot," Superintended Jason McKay explained.
The buses will be stationed at the auditorium parking lot through the school day and evenings so that the former bus parking and fencing on the north end of BHS can be torn down and prepared for the new vo-tech facility construction site.
The buses will only be temporarily stationed at the auditorium parking lot until the elementary bus parking lot is upgraded to house the buses as their permanent station.
All bus schedules and pick up and drop off points will remain the same for morning and afternoon routes.
"We want to inform the community of our planning and steps throughout the construction process. Safety is our first priority in providing your child's education," Superintendent McKay added.
Baldwyn Schools named District of Innovation
Baldwyn Schools named District of Innovation
Baldwyn School District has been named a District of Innovation by the Mississippi Department of Education. This elite status was awarded to the district after forming a partnership with Booneville School District for the "Building Bridges" program.
The "Building Bridges" program will enable students to access specialized courses in both districts. Baldwyn School District will provide students the opportunity to take career and technical courses and earn industry certification in industrial maintenance and/or furniture manufacturing. The classes will be located on the Baldwyn High School campus and taught by certified Baldwyn High School staff in the new vocational educational facility in which the construction process is underway.
Booneville School District will offer students the opportunity to take online Advanced Placement courses taught by Booneville High School teachers who have AP certifications.
"Working with Booneville allows our district to be creative and broaden educational opportunities for students," Baldwyn Superintendent Jason McKay said.
"This partnership helps us work together to give our students the best chance to succeed."
Booneville Superintendent Todd English added, "Our collaboration helps our schools use our strengths to benefit the students."
District of Innovation statuses are awarded through an application process. During 2016 Corinth, Gulfport, and Vicksburg-Warren schools earned the status. During the February MDE board meeting, Grenada, Baldwyn, and Booneville schools were awarded the status. For more information, visit www.mde.k12.ms.us.
BHS Vo-tech building progress continues
BHS vo-tech construction process begins
Baldwyn Schools has begun advertising for bids for the upcoming vocational education building construction.
In January a bond issued passed at over 85 percent approval for the funding of constructing a vo-tech building on the Baldwyn High School campus. The facility and vo-tech education will entail three different costs including personnel, equipment and supplies, and building construction. The personnel salaries will be funded through the Mississippi Department of Education; most of the equipment and supplies have been donated by area industries, and grants will be sought for remaining equipment and supplies; and the building construction will be funded through the bond issue.
Bids for construction will be opened on March 23 by Baldwyn Schools' board members and administration. A bid will then be accepted, and the board and administration will move forward with a work session on March 24. With this anticipated schedule, construction is expected to begin by April. The construction company will be under a 180-day contract. The construction is expected to be completed during the fall of the 2017-18 school year.
The vo-tech facility will be 11,900 square feet including four classrooms, two large workshops, one conference room, four offices, two bathrooms, a lobby, expandable entrances, and a dock lift outside the workshops.
Currently Baldwyn Schools offers Teacher Academy, Business classes, STEM, Agri-Science, Career Pathways Exploration, and Family and Consumer Science vocational classes. With the addition of the vo-tech building, BHS will also be able to offer Furniture Manufacturing and Manufacturing Technician classes. The Teacher Academy and Business classes will be relocated to the new facility also.
"We are excited to begin this stage of construction and want to make sure we take every step in preparing our students with the tools and skills they need for their future education, career, and opportunities to be successful," Superintendent Jason McKay said.