Baldwyn
Middle School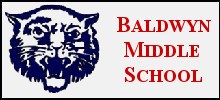 What We Stand For
Baldwyn Middle School proudly serves students in fifth through eighth grades. Teachers and staff of BMS work hard to provide a quality education and enjoyable learning experience for all students.
Our Vision
Teaching the Professionals of tomorrow
BMS Counselor's Page
Click here for more information and resources from the BMS Counselor.
Get In Touch
Location:  452 N. Fourth Street
Baldwyn, MS 38824
Telephone: (662) 365-1015
Mary Thompson, BMS Secretary
Email: thompsonm@baldwynschools.com
School Hours: M-F: 7:30 a.m. – 3:15 p.m.